Note: supported in Voyager 4.27 Beta 407 or higher
For Virtual LED + AR Set Extension, Voyager now includes a new template called "VLED+EXT".
Please select that to create the project.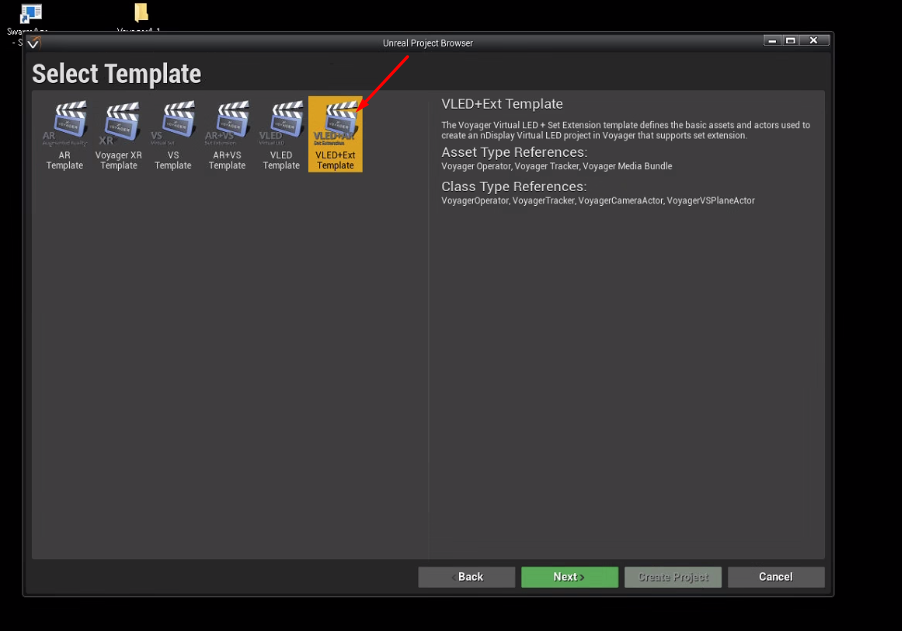 Quick steps to set it up:
Create a project based on this new template.

Create Media Profile.

Assign Media Profile to Project Settings->Media Profile->Startup Media Profile.


Adjust your Composite plane.
Adjust nDisplay settings and viewports : Open "Virtual LED Stage" object and configure the nDisplay Nodes accordingly.

Recommended

: Select "Export on Save".

Adjust Voyager Green Screen objects (Dimensions) to match the area of your video wall. You can use a custom mesh as well. Adjust feather effect for the borders. You can use multiple objects.

Executing the project:
Save the project and close Editor.
Copy the project to the same path on every machine.
Start "SwitchboardListener.exe" on every node 407 (the shortcut is called "Voyager XR Listener"; in future release, it will be called "Voyager Switchboard Listener").
Open Switchboard (could be anywhere; master would be fine) with admin privileges. Open your uproject file (C:\Program). Files\Voyager\Engine\Plugins\VirtualProduction\Switchboard\Source\Switchboard\switchboard.bat)
Make sure "Master Device Used as Set Extension" is selected.

Notes:
In the Master machine nVidia Control Panel, Vertical Sync needs to set to "Use the 3D application control".
Progressive reference seems to work better for nVidia Sync.
May need to tweak "Delay" values in the Master/AR Set Extension system -> Show Delay Info -> Set value -> Save.
Lucid should talk to 1 engine to the Master/AR one only.
Needs a couple seconds to catch up on start, so don't worry if you see the performance too high for the first couple seconds (< 5 secs).
This implementation should synchronize any nDisplay cluster event.
Running PIE on in the Editor runs the set as VS/AR, so it can be used to adjust the input and tracking delay as usual.
Recommendation:
Start with a simple project. Once everything works fine, move to an actual (bigger/complicated) project.